Disclosure: This shop has been compensated by Collective Bias, Inc. and its advertiser. All opinions are mine alone. #CurbsideConvenience #CollectiveBias
If you have teenagers, you know how hungry they always are. Isn't it a strange, but wonderful, feeling to look at your "babies" and see growing men and ladies who are most likely taller and stronger than you?
I take my role as my son's mom very seriously, and one of the most important aspects of my role is to keep him healthy, happy and full, while teaching him to make good decisions after he leaves home. Many of these teachable moments involve the kitchen and how to organize his life so that his can continue to be healthy, happy and full without spending a ton of time doing so.
Here are 8 practical time saving kitchen tips to help busy moms of teens.
Teach your teens how to menu plan
I think we all know that having a menu plan relieves a lot of pressure for moms, but it can also relieve the stress a kid might feel wondering exactly what meal will be on the table. Teenagers think about food a lot and when he or she knows what to expect for lunch and dinner, it takes away the unknown and allows them to focus on school work, projects, and chores. As an adult, menu planning will relieve them of even more stress (and wandering around the kitchen wondering what to prepare themselves for dinner.) The plan will be complete, the grocery shopping done, and the steps will already be implanted in their brains.
Keep a no-prep snack suggestion list
How many of you have walked into the kitchen to see your hungry teen standing with the refrigerator door open or aimlessly staring into the pantry Making a simple list of grab-and-go or minimal-prep snack options will take the guesswork out of their dilemma of "what can I eat now that will not spoil dinner. "
Display this list prominently and make healthy snacks EASY to access. Keep a drawer full of washed apples in the fridge. Your teens will go for a bag of baby carrots long before they grab a carrot that has to be peeled and chopped. If your teen loves oranges, but hates to peel them, offer to do it for them. 60 seconds out of your day is worth it.
Create individual smoothie packs for the freezer
Smoothies can be extremely healthy and filling! They are also super easy to make and give you the opportunity to sneak in the little things that will benefit your teenager, such as flax seeds, chia seeds, and avocado. (Bleh, we hate avocado and will only eat it in smoothies.) Our go-to smoothie is a handful of frozen berries, 2 frozen spinach cubes, 1 frozen avocado cube, a couple pieces of sliced banana, and some apple or orange juice. We always toss in flax and chia seeds as well.
Smoothies are even easier to make if you keep your freezer stocked with individual portions.
Keep a shopping list on the fridge
This can be a simple magnetic pad of paper with pencil. (Make sure the pencil has a magnet or string on it or else it will get lost.) Not only does this help you with the grocery list, it teaches your teens to be responsible and add a used-up item to the list. Whoever uses something up or notices that the item is close to empty, has to write it on the list. This is a simple habit to create in the teen years that they will appreciate when they are older.
Teach the value of the crock pot and pressure cooker
These two devices are massive time savers. Your teens will thank you for introducing them to quick and easy cooking when they are in the full time work force!
Keep a simple meal list of 30-40 favorites
More isn't always better and unlike that old saying, variety isn't always the "spice of life." Having too much variety can lead to what marketers call "choice paralysis." Rotating through a small list of your family's favorite dishes will give you a chance to teach your teen how to perfect each dish.
Teach your teens to make double batches of favorite dishes
Not only should you be teaching your teens how to cook, you should teach them how to shop for and prepare double batches of freezable meals.
Teach your teens to use online shopping and curbside pickup
The day I discovered that Giant Eagle offers personal shoppers and curbside pickup, rainbows and shooting stars appeared over my house! Teaching our son to place value on his TIME has always been important to us, and because of that, it didn't take him long to see the value in a curbside pickup service.
I do like grocery shopping. I love picking out food and trying new items. But I truly hate going out grocery shopping. My son takes after me in that aspect, so shopping online and making a quick 10 minute trip to pick up groceries is definitely a plus in his eyes.
If you are immediately thinking that this brilliant feature will be too expensive for you to take advantage of, you are wrong. Your first 3 Giant Eagle Curbside Express pickups are free and after that, the fee is only $4.95. Since shopping often takes more than an hour, this $4.95 fee is nothing compared to the value of my time. Ask your teen which they'd rather have.
Not going into the store also saves on impulse purchases, which my teen and I are both very guilty of.
Shopping online with Curbside Express couldn't be easier. Your first steps are to create your account, choose your store, and link your Giant Eagle Advantage Card. Linking your card ensures that you'll receive the sale prices.
Next, type in the product you are looking for. Searching banana brings up produce bananas as well as banana flavored items like yogurt and baby food.
You can also shop the sales by opening up the weekly ad and clicking on the items you want to add to your cart. This is very helpful to me because I don't normally look at the ads before doing regular shopping in the store, but looking at the ads online brings my attention to things I wouldn't normally buy. I absolutely love salmon, but someone once told me it was difficult to cook, so whenever I get a craving for salmon we go out to eat. The "huge seafood sale" title and amazing price on the Farm-Raised Skinless Salmon in the ad made me decide to give it a try. You know what…cooking salmon at home was SO easy and it tasted better than a restaurant!
You can also replicate previous orders with one click, create standard shopping lists, filter by brand, and filter by dietary concern.
When you check out, you are given an option to choose a window of time for your pickup.
You are also given the option to pay online or pay when you pick up your groceries.
Your personal shopper pays close attention to your order. In the two years I've spent shopping with Curbside Express, my order has always been perfect. You have the option of clicking "allow substitution" on items in your order, and if you do not click "allow substitution" and something is out of stock, your personal shopper will call you to let you know what is available. On my latest shopping trip, my personal shopper called me to ask if it was ok to substitute the Bounty white select-a-size paper towels for the Minions print.
When you arrive at the store, you simply pull into the Curbside Express lane near the front of the store and call the phone number listed on the sign. Your personal shopper will come out to your car to load your groceries into your trunk. No finding a parking space, no pushing shopping carts, no waiting in line at the checkout counter, no chance of running into people at the store that you don't want to talk to. You don't even have to get out of your car at all.
See more at the Curbside Express Hub, which is full of more great tips and recipes.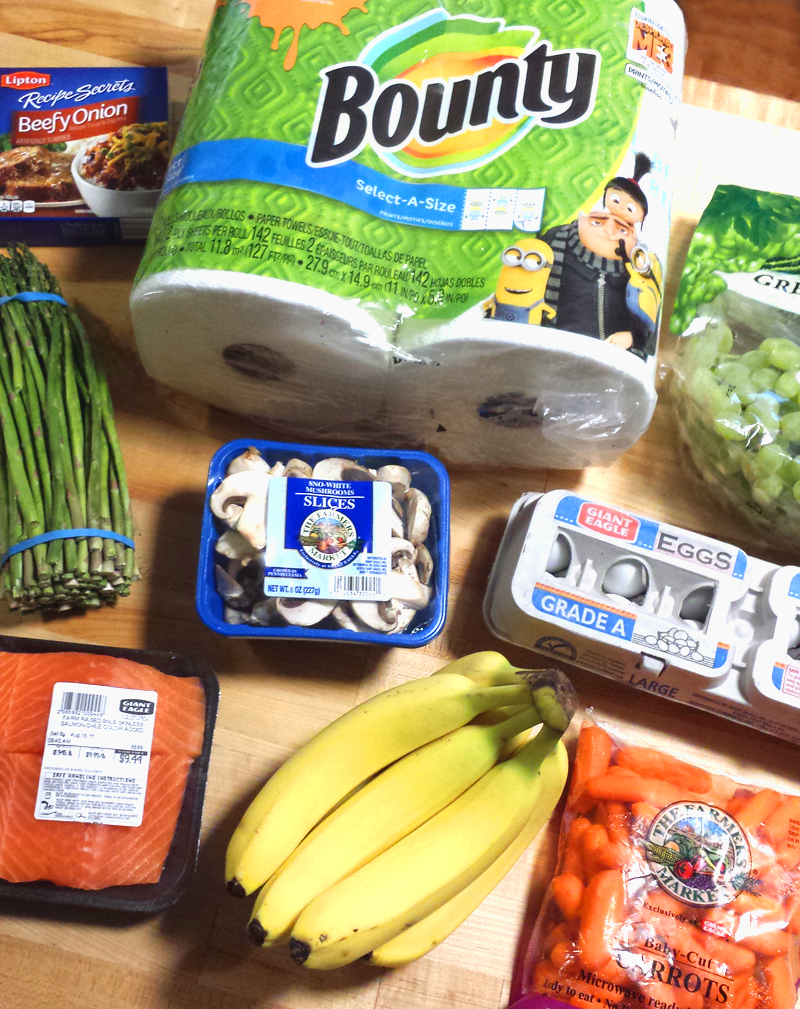 Do you have any tips to add? I'd love to hear them!
*Disclosure: this post may contain affiliate links.