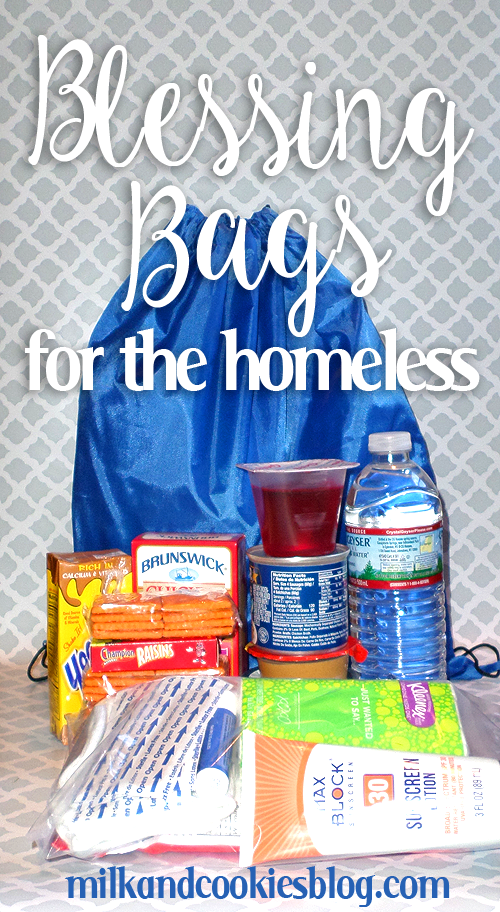 …
It's Christmas time, so that means that everyone we know is busy shopping for the perfect gifts for the people they love. Seeking out that unique present can often take months. We want the gift to practical, yet meaningful…something our loved one will treasure forever. Sometimes we are so busy worrying about presents for family and friends that we forget about those who are most in need.
Blessing bags for the homeless are an easy way to give back to your community, not just during the holidays, but all year around.
As a lot of life happens in our cars, I am sure that almost all of us have driven by a person in need. For us, it often happens while we are waiting at street lights downtown. Because of this, we have gotten into the habit of keeping a stockpile of blessing bags in the backseat.
These blessing bags are super easy to create and you can prepare many at one time. A bag full of essentials, as well as some extra special goodies, is a really practical way to meet the needs of someone who might otherwise feel forgotten. Blessing bags are also a way to demonstrate generosity and charity to your children.
What NOT to put in a Blessing Bag for the Homeless
I'd like to start off this list with the items that homeless advocates and shelters advise against putting into a care package.
Many of the homeless do not have access to dental care, so avoid food items that are difficult to chew. This includes: crunchy trail mix and hard granola bars.
Strong smelling toiletries. Even if packaged separately, the smell will leak through to the food.
Anything made of glass, which is easily broken.
Mouthwash, hand sanitizer, cold medicine, or anything else with alcohol in it.
What is OKAY to put in a Blessing Bag for the Homeless
Non-Perishable Food and Drink
Be sure to keep food separate from toiletries.
Bottled water
Yoo-Hoo
Instant coffee
Travel mug with lid
Hot cocoa packets
Tea bags
Crackers and peanut butter
Raisins
Dried fruit
Tuna and crackers
Chicken and crackers
Beef jerky
Pre-cooked canned meat
Nuts
Soft granola bars
Applesauce
Fruit cups
Jell-O
Plastic utensils for food
Toiletries and Other Survival Items
Pack all of these items in large, zip bags. Be sure to keep food and drinks separate.
Gloves
A hat (baseball cap is good for summer, knit cap for winter)
Socks are good all year around
Lip balm
Lotion
Sunscreen
Band-aids
Deodorant
Tissues
Toothbrush and toothpaste (find a toothbrush with a cap cover)
Floss
Comb
Wet wipes
Headlamp or flashlight
Sewing kit
Chewable multivitamins
First aid kit
Ibuprofen or Acetaminophen
Nail clippers
Hand warmers
Small bottles of shampoo
Soap and wash cloth
A list of helpful local resources like the addresses of a shelter and soup kitchen
Finishing Up
After separating the items into clear, zip bags, place everything into a handy reusable drawstring bag. I purchased bags that double as backpacks.
Include a card or some type of encouraging note. You are welcome to print out the cards that I use.
All of the items that I put in my blessing bags can be purchased at Big Lots. I love the feeling of being able to walk through a store knowing that I will find everything I need in one place!
As I walked aisle to aisle, loading my cart with enough to fill six blessing bags, one of the employees who was stocking a shelf asked me if I was creating care packages. She said that she sees so many customers at Big Lots with carts like mine, that she recognizes the cause immediately. I love our local Big Lots. I go there frequently when my son is in Taekwondo class. The employees are always so polite and friendly and I never know who I might meet, or what blessing of a conversation I might have while I am shopping.
While at Big Lots, you'll want to grab a cart and go aisle to aisle, carefully looking at all of the shelves for the items on my printable list. Not only will you find the items for your blessing bags, you'll probably find several Christmas presents for your family and maybe even yourself! Big Lots is definitely the perfect store for all your holiday gifting needs.
The dental hygiene aisle | applesauce and fruit section | tuna/chicken and crackers section at Big Lots.
Big Lots has a great selection of thick, quality socks, as well as hats, gloves, and scarves. The homeless really appreciate these items, especially warm socks.  The travel size section, found in one of the toiletry aisles, is a wonderful place to find items for your blessings bags.
Have you ever created a Blessing Bag? Can you think of any items that I've left out?
*Disclosure: this post may contain affiliate links.